The Tuttle Click Story

CELEBRATING 75 YEARS!

---
The Tuttle-Click Automotive Group has been serving the Southern California community since 1946. Our founder, Holmes Tuttle, started his automotive career after moving to California from Oklahoma selling Ford parts. After working his way up, he opened his first dealership, and the nation's first stand-alone Lincoln franchise in Beverly Hills. After selling a car to a young actor named Ronald Reagan, Holmes Tuttle found his way into politics, working with Reagan's cabinet on the state and national level.
Today, there are six Tuttle-Click locations in California (Irvine, Tustin, and San Juan Capistrano) and nine more in Tucson and Green Valley, Arizona. Our owners are Robert Tuttle and Jim Click, Holmes' son and nephew respectively.
Our goal is to assist customers with their automotive needs, from sales and leasing to parts and service, to finance and even collision repairs and commercial vehicles. Customer service is our number one priority, so our staff undergoes rigorous training to teach them the standards of professionalism, etiquette and friendliness that are required. Because of this focus, we continually place among the top of our region, or even nation, in customer satisfaction scores.
With the Tuttle-Click Price Promise, you can be assured that your deal is competitive, fair, hassle-free and easy. We challenge you to try us first!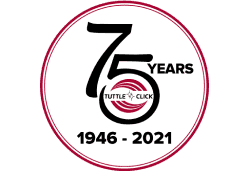 Mission Statement
The Tuttle-Click Automotive Group is dedicated to meeting the transportation needs of our customers and our community. We strive to provide the highest quality of retail automotive sales, parts and service to our customers.
We hold personal and professional ethics and integrity to be the cornerstone by which we do business and, therefore, offer honest value with the best possible quality of service.
The founding principles of the Company are anchored in family traditions, and direct our continuing activities toward being exemplary community citizens.
We are further dedicated to organizational excellence which forms the internal strength of our Company. We believe our employees are of the highest quality and we dedicate ourselves to their welfare. We believe in treating our co-workers with fairness, respect, understanding, and dignity.
Through orderly planning, a cooperative spirit of teamwork, open communication, freedom of expression, and continued support, our employees have the opportunity to grow within the Company. The key to our Company's foundation is customer satisfaction through fair and understanding interactions.
And finally, we believe that the success of our Company will be achieved through the cooperation of our customers, employees, and community working together towards common goals.
All of which leads us to the inescapable conclusion that Tuttle-Click dealerships are quality companies… providing quality products and service to quality customers through the efforts of quality people.