Our Reviews
Talk about 5 star experience. The team over there is awesome and efficient. No need to waste your time going elsewhere. We bought a Lincoln Aviator from the Irvine dealership and I felt like I got a good price and even better service.
The Lincoln service team (especially Nolan Letman) does an awesome job of listening to your concerns and following through on the issues. I appreciate their help!
Incredible customer service! Reza Tabasi patiently assisted me in finding my favorite car, explaining all the details with expertise. He's a true professional, and I'm thrilled with my Corsair. Additionally, they offered me the best rate for trading in my car.
I had a wonderful experience at Tuttle Click. The customer service was 10/10 and everyone was eager to help me. Super friendly staff and did not feel overly pushy. Special shout out to Tim for walking me through the Ford app and Calvin for being so helpful.
Super easy and quick. Zach helped us out and was great, he let us know what we needed for maintenance and the communication was top notch. Will be bringing our trucks back.
Always handled very professionally and personally.
Amazing experience once again from start to finish. Communication, professionalism and an awesome lobby with coffee, pastries, etc. I'd work from there everyday if they'd let me!
Zack Griffen and Sean Osborne were awesome service advisor and explained everything they were going to perform on my vehicle
As always Sam in service was terrific. Wouldn't take my car any place else. Most important is trust and the service was great!
Paul Parsons is the best service manager I've ever met! Exceptional communication with a sincere desire to make your experience the best it can be. I have company business we've always done through HB Ford and previously used Ford in Costa Mesa, never again. I'll always bring my vehicles to Paul in Irvine moving forward.
Zack was great I came in with my ford f-150 and left it over a weekend for transmission issues. It ended up needing a replacement. Zack was honest with the time it would take ,he communicated the situation and the got it done on time . That is all I ask I have Tustin ford .5 miles from my hours but I will not take it there ever they lie and are the worst service department ever!! As well Chris Greco the GM is a total liar he give shady used car dealers a bad name that is how bad that dealership is it should be shut down and turned into a parking lot. But Irvine ford gave me a new respect for ford dealers! Will do all my business here
Ford's customer service was great from start to finish.
Amazing service. Very friendly & efficient
Every time I bring my truck in to this dealer I have nothing but excellent service. I never make an appointment and somehow get my truck back same day. Paul Parsons is the one who helped me and I can't recommend him enough a true gentleman.
Only thing I have to say about this dealer is they are all great! customer service is exceptional !
Thomas my advisor was great throughout the whole process and Dan the service manager was outstanding as well…
great Job to the service staff for getting our F-150 Lightning back on the road quickly with your service corrections. Stand up company that is very responsive to our needs.
Oscar was absolutely outstanding as an adviser! The team is very on top of their work. I would highly recommend this store.
Very good experience w the dealership and El
I absolutely love this place. I needed to get my oil changed, and they were very quick to respond and arrange a set up to pick up my truck from work. They even brought it back in one piece. I highly recommend this spot for all your service needs they were very thorough and super friendly. Great customer service, you now have a dedicated customer to come here. This is the only place I been to who's been very kind. So most def come here
This is a message to bob tuttle i wrote a complaint about his dealership in tucson holmes tuttle ford i sent jim click it also and no response on jun 15 ish i put in a vacation days to go to moms 82nd birthday party in utah and was told no i was going with my daughter bought plane tickets and the gm name is darrin nichols told me no and then told me if my mom was dead he would give me a month off that was even worse so on july 1 i went to moms birthday called in not feeling well no response then that night got a call from human resource sherif and aske if i called in at 5 pm now i know human resource doesnt call everyone that calls in sick and was told to get a covid test when i felt better so i did then tried to talk to sam k and was told to go home and they would contact me the test was negitive then got a call that night saying im under investigation next day fired for lying to human resource never talked to them they called me so i left not the problem the problem is the harrasment im getting from darrin nichol and alex pugh drop car off for service and darrin came running out and confronted me yelling and 2 month later i go buy a part from nissan and alex pugh called me and said im not welcomed in any of the dealership with out getting ok by the gm and im a retail customer just getting parts and want to service my ford truck not asking a lot i can tell ford i have a ford truck i the dealership is not wanting me service with them the closest dealer is oro ford in catalina im asking to not get harrased im just a customer there is so much more to much to type so if you can handle this or if you want to call me at 520-907-9842 i was fired for going to my moms birthday and i had vacation days worst firing ever told and jim click says this is a family run dealership not as i see it thank for your time hope to get a response before i go further
Friendly, quick, and no pressure sales from both the sales team and finance team. Basically, no B.S.!
Ford Blue Advantage™: Confidence at Every Turn
Experience the benefits of Ford Blue Advantage! Each Ford Blue Advantage vehicle features a limited warranty, multi-point inspection, 24/7 roadside assistance, and FordPass™ Rewards Points.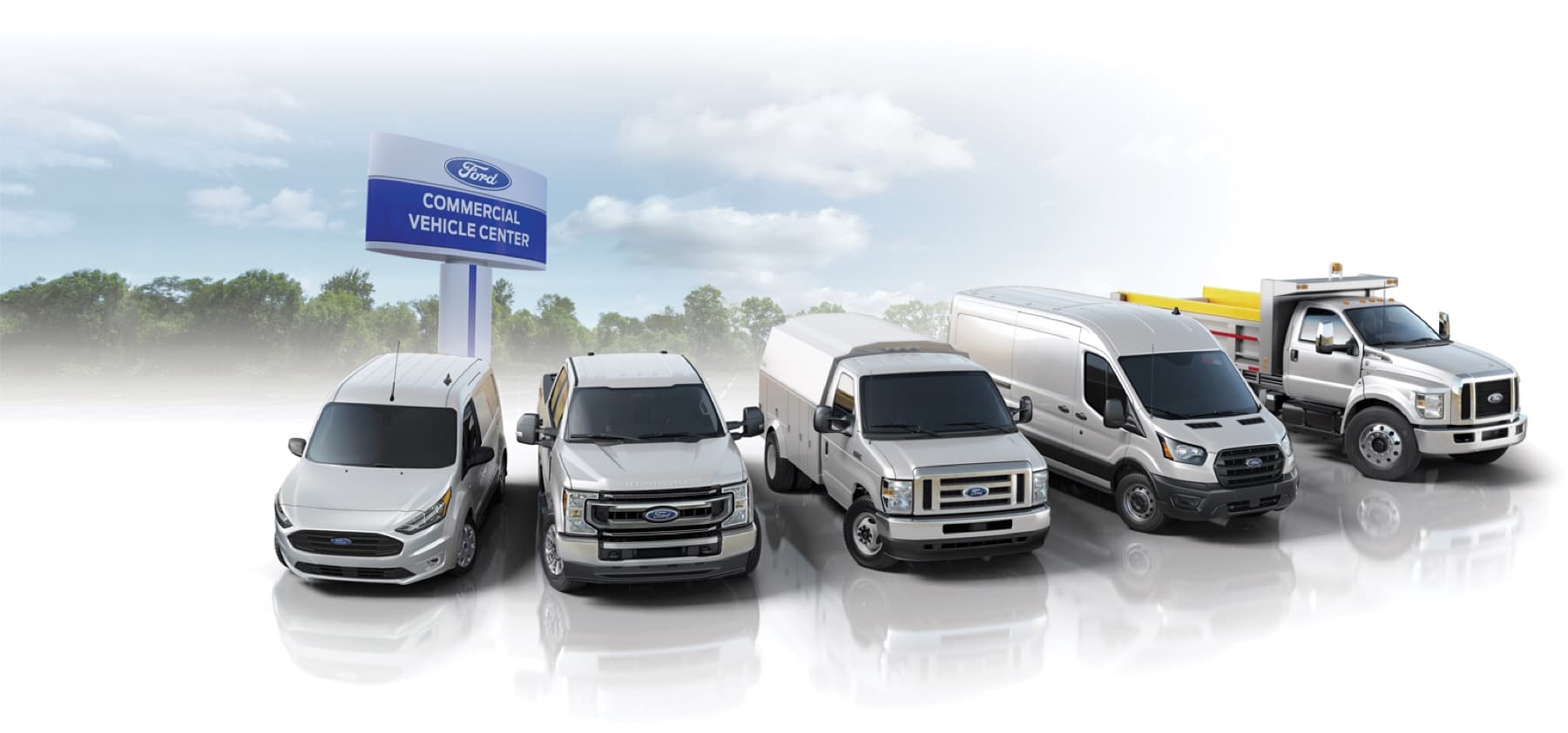 Built for the Road Forward
Your job has never been tougher. And we'll be here to help you keep working. Ford Commercial Vehicles are engineered to withstand the severity of everyday on-the-job duty.

Welcome to Tuttle-Click Ford
Tuttle-Click Ford Dealer Irvine, CA
The Tuttle-Click Ford dealership in Irvine, CA offers new and used Ford trucks, cars, SUVs and vans. Orange County Ford inventory includes Maverick, Mustang Mach-E, F-150 Lightning, E-Transit, Ford C-MAX, Edge, Escape, Expedition, Explorer, F-150, Fiesta, Flex, Focus, Fusion, Mustang, Super Duty, Taurus, Transit Connect, Transit Cargo Van and Transit Passenger Wagon. Visit our Ford dealership near Mission Viejo, Tustin, Anaheim to find car lease specials and our best Ford deals in Irvine.
Tuttle-Click Ford of Irvine offers a large selection of used vehicles, including certified used Ford trucks, SUVs and cars for sale in Orange County. Ford dealer specials include a variety of pre-owned vehicles at our Irvine car dealership. View our inventory to find cheap prices on used cars for sale near you.
Our Ford service mechanics work on all types of vehicles at our certified Ford Service Center in Irvine, CA. We offer a full range of auto service, repair and maintenance including oil change, tires, brakes, battery, filters, engine and transmission service. You can order Ford Parts and accessories online or at our Irvine Ford dealership.
The Tuttle-Click Ford financing department can help you finance or lease a new Ford vehicle, or buy a used car. Irvine Ford dealer specials include cash rebates, financing incentives and Ford lease deals to help you save money. We consider all credit types, including bad credit auto loans. Our Ford dealership in the Irvine Auto Center can help you buy a car, even with bad credit or no credit.
New & Used Car Dealership
Tuttle-Click Ford is part of the Tuttle-Click automotive group. Our new and used auto dealer in Irvine, CA proudly serves Southern California including Mission Viejo, Tustin, Lake Forest, Aliso Viejo, Laguna Hills, Laguna Niguel, Costa Mesa, Newport Beach, Huntington Beach, Santa Ana, Anaheim and nearby Orange County Ford dealership SoCal area.
Contact Us