Our Reviews
Oscar always takes care of me well in the service center. He communicates a lot and very helpful and knowledgeable. I appreciate having someone I trust at a dealership. I have been very happy with their service on several occasions!
When I came in for my appointment for an oil change the service area was lined with cars! Paul in the service department suggested I also have the transmission fluid change, fuel injectors cleaned and air filter changed in the cabin! I was concerned after seeing all the cars that I might not get my car back by the end of the day! Paul was very kind and said he would give me a text when it was done but it probably wouldn't be done until evening. At 3:45 I received a text from Paul and my car was done. I always try and go to Paul, he is very friendly, kind and helpful. Thank you Paul!
Paul Pearson is absolutely the best. He is caring, helpful and very knowledgeable about the parts and service required for these vehicles and unlike any other service advisor at any dealership he doesn't try to sell you, he tells you honest and upfront what your vehicle needs and what it costs so you can make the best decision for yourself. He is the only reason I bring any and all Ford vehicles to this specific dealership for service even if and when I purchase them elsewhere. I hope they are treating him well and give him the recognition, raise and respect he deserves for his hard work and high level of service.Thanks for everything Paul.
So first there is the beautiful classy looking building itself with all its murals of old carrs, and you will also find a cafe in the building itself Then we met Masaud... A man full of energy and zest but not your typical car salesman Not pushy at all ! My circumstances were difficult, nevertheless he remained thoughtful, calm and reassuring during the entire process. I drove home in the car I came in to buy. I would also like to mention that the finance managers worked hard to go the extra mile for me. Even tho This dealership is 100 miles from where I live, I am so glad I came here and hope to buy my next car here as well.
Great service! Staff was very friendly and accommodating!
Great experience with service advisor, Tim O'Neil. Tuttle-Click offered competitive pricing, but working with Tim made the difference for me. He was friendly, clear, honest, timely, and a consummate professional. He honored his commitments and his integrity was unquestionable.
Everyone at Tuttle-Click went above and beyond from the moment we walked into the dealership. My parents and I were helping my daughter shop for a new car. Brandon was our sales rep. I called him on our way to make sure Tuttle-Click had the car we were looking for. He confirmed they did and put it on hold for us. When we walked in he welcomed us quickly and brought us to the car. He asked us lots of questions and showed us all the features before the test drive. He was extremely helpful, honest, and caring. Since the car is for my daughter and she was at work I asked if we could return a couple hours later with her so she could test drive the car. He said yes, and held the car for her. When she arrived he showed her the car and all the features answering all of her questions and was very patient and kind. This was her first car purchase so I appreciated the time he took with her and the fact that he didn't pressure her. Since it was late on a Sunday and my bank was closed, Brandon and the finance manager asked if we could return in the morning to complete the purchase. We said of course we can and went home. The next morning the finance manager called us with several different financing options, we picked one and when we arrived at the dealership later that afternoon the car was washed and ready to be picked up. All we had to do was give them the check for the down payment and sign the paperwork. While we were waiting to sign the paperwork, Brandon brought us bottled water and sat with us. At one point he excused himself and next thing I know he's running past us with a giant bow. He put it on my daughter's new car along with a big sold sign. When he handed her the keys everyone in the front area cheered and clapped for her. Then Brandon helped as my daughter proudly took pictures with her new car. Everyone made her feel special. About 6 days later the battery died. The car was used, and a few years old, so we were disappointed, but not surprised. Nolan at Tuttle-Click service department was amazing from the moment we dropped off the car to the moment we picked it back up. Since the car was not a Ford or Lincoln, Tuttle-Click had to send it to a nearby dealer for service. Once the battery was replaced they realized that other parts needed to be replaced as well. Unfortunately, since the car was not at the Tuttle-Click service department there wasn't much they could do to speed it along and the car stayed in service quite a while. Getting updates and information from the other dealership was difficult and it became frustrating. But Tuttle-Click stayed in communication with us the entire time. At one point we received communication from Jackson King, one of the managers at Tuttle-Click, he began communicating with the manager at the other dealership to get us more information and move the process along. He also was able to get us a loaner car for the entire time our car was in the shop and apologized for the delays. Everyone we have had the pleasure of working with at Tuttle-Click far exceeded our expectations from beginning to end. I will definitely be recommending this dealership to everyone I know and my parents have already started the process of purchasing a car from them as well. Thank you so much Tuttle-Click for providing superior service and making every customer feel special and cared for.
Competent service team, good communication. Would return
Experience was great Zack was a pleasure to work with . Got things handled very efficiently.
Paul Parsons is first class. You are lucky to have him on your team.
Everything was perfect. Paul did an excellent job
The best dealership experience I've ever had. I was in and out within an hour and everyone was so nice and helpful.
Sean and Jack are the best!! They help us out throughout. Highly recommend them when you visit sa site.
It's a pleasure getting my car serviced at Tuttle-Click Ford in Irvine because I have the BEST service advisor, Paul Parsons. Also because the service center has free coffee. Thank you!
Great experience working with Tuttle-Click Ford. They are a well run organization with fast and efficient service.
I've leased Lincoln's for about 20 yrs & the last 3 cars have leased thru Tuttle Click with salesman Brandon Jacobson. I highly recommend Brandon to assist anyone looking for a car in fact, my whole family has worked with Brandon. He is knowledgeable about everything on the vehicle - he's professional & just a delight to work with.
Been there before but this TIME I liked more!! Paul always listening to me and understanding what exactly I want. Really appreciate Paul, thank you so much for your wonderful service!!!
Friendly people. Had a pleasant experience with my purchase. Would definitely recommend.
Eric is the man. He took care of my issues on a few occasions. My go-to guy at the service center
I'm happy with my last visit at Ford dealership. Tim was super nice and very helpful!!!
Amazing service! First time we have taken my wife's Navigator to get serviced/worked on. The turn around was super quick and I was Ubered home free of charge. (Yes I know it's probably included in final price. Let me enjoy the moment). Nolan L. kept us updated on what was being done to vehicle and kept any and all promises. The price of work was very reasonable and they actually have vehicle running better than before we took it in. True what they say "Happy wife, happy life"😂. Thank you to all the staff for a job well done! Edit: this review was supposed to be 5 stars. I must have pushed wrong amount by accident.
Jack was very good and communicated professionally.
Tim was excellent. He was not only professional and knowledgeable, but he went above and beyond to make sure our purchasing experience was satisfying and certain. Thank you to the crew at Tuttle-Click, we'll be back.
Ford Blue Advantage: Confidence at Every Turn
Experience the benefits of Ford Blue Advantage! Each Ford Blue Advantage vehicle features a limited warranty, multi-point inspection, 24/7 roadside assistance, and FordPass™ Rewards Points.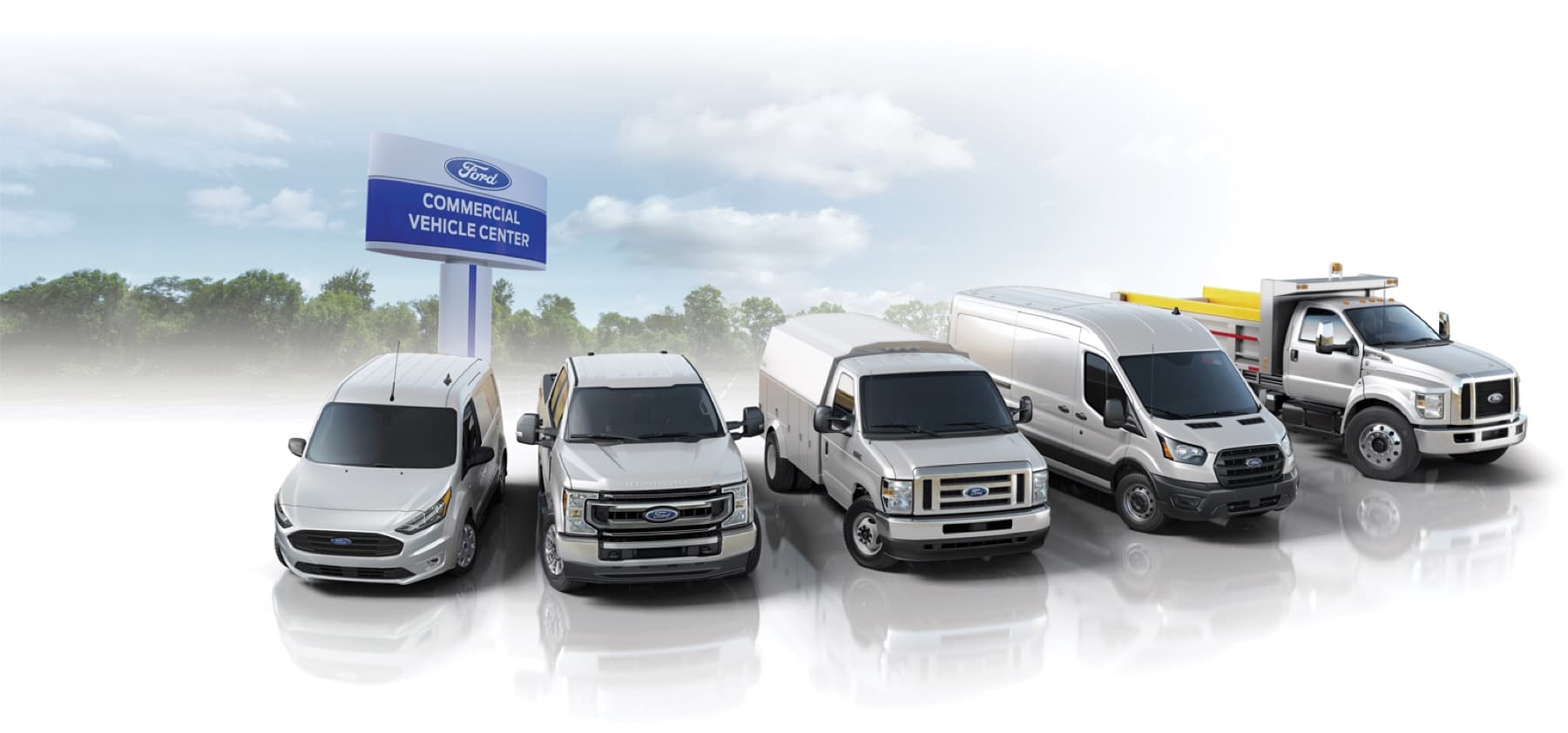 Built for the Road Forward
Your job has never been tougher. And we'll be here to help you keep working. Ford Commercial Vehicles are engineered to withstand the severity of everyday on-the-job duty.

Welcome to Tuttle-Click Ford
Tuttle-Click Ford Dealer Irvine, CA
The Tuttle-Click Ford dealership in Irvine, CA offers new and used Ford trucks, cars, SUVs and vans. Orange County Ford inventory includes Ford C-MAX, EcoSport, Edge, Escape, Expedition, Explorer, F-150, Fiesta, Flex, Focus, Fusion, Mustang, Super Duty, Taurus, Transit Connect, Transit Cargo Van and Transit Passenger Wagon. Visit our Ford dealership near Mission Viejo, Tustin, Anaheim to find car lease specials and our best Ford deals in Irvine.
Tuttle-Click Ford of Irvine offers a large selection of used vehicles, including certified used Ford trucks, SUVs and cars for sale in Orange County. Ford dealer specials include a variety of pre-owned vehicles at our Irvine car dealership. View our inventory to find cheap prices on used cars for sale near you.
Our Ford service mechanics work on all types of vehicles at our certified Ford Service Center in Irvine, CA. We offer a full range of auto service, repair and maintenance including oil change, tires, brakes, battery, filters, engine and transmission service. You can order Ford Parts and accessories online or at our Irvine Ford dealership.
The Tuttle-Click Ford financing department can help you finance or lease a new Ford vehicle, or buy a used car. Irvine Ford dealer specials include cash rebates, financing incentives and Ford lease deals to help you save money. We consider all credit types, including bad credit auto loans. Our Ford dealership in the Irvine Auto Center can help you buy a car, even with bad credit or no credit.
New & Used Car Dealership
Tuttle-Click Ford is part of the Tuttle-Click automotive group. Our new and used auto dealer in Irvine, CA proudly serves Southern California including Mission Viejo, Tustin, Lake Forest, Aliso Viejo, Laguna Hills, Laguna Niguel, Costa Mesa, Newport Beach, Huntington Beach, Santa Ana, Anaheim and nearby Orange County Ford dealership SoCal area.
Contact Us