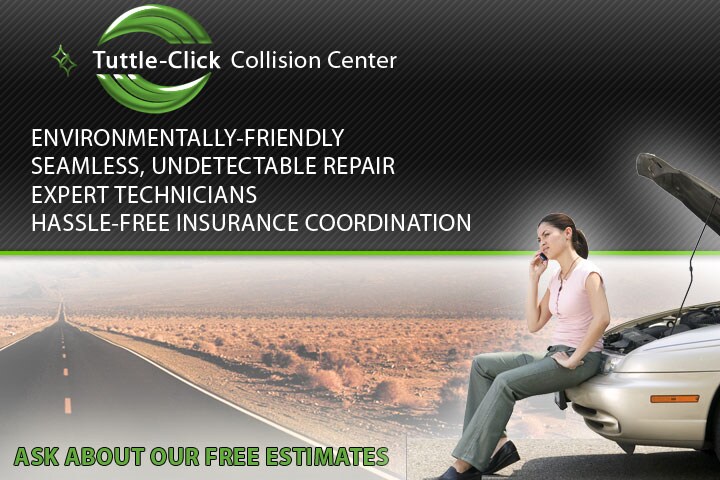 We hope you never have an accident, but if you do...
Our conveniently located collision center can help get you back in the driver's seat using state-of-the-art equipment and repair techniques that will return your vehicle to pre-accident condition.  With the complex safety and engineering designs used by all automotive manufacturers today, you can have confidence that your vehicle will be repaired by industry certified professionals using quality parts and completed in a timely manner.
Your rights as a consumer are protected and state you may choose the collision repair facility of your choice.  Although your insurance company may recommend a repair facility for a variety of stated reasons, know that you have the final say!  Request your vehicle be repaired at Tuttle-Click's Collision Center.  We promise you will not be disappointed!
We work with all insurance companies
on all makes and models!
Tuttle-Click Ford works with all major insurance companies to get your claim covered quickly and hassle-free.  Our experienced, certified Technicians use state-of-the art equipment and top-quality products to ensure a seamless, undetectable repair.  Our Irvine body shop is located at 43 Auto Center Drive in Orange County between Tuttle-Click Ford and Tuttle-Click Mazda in the Irvine Auto Center.  We offer free estimates!  Our Body Shop Team is here to make your repair quick, easy and hassle-free and our technicians, painters and collision specialists will return your vehicle to its original condition, whether it needs dent removal, scratch repair, windshield replacement, or has extensive frame damage.  No job is too big or too small for our Orange County body shop.